"The speaker is focused on what matters for Texas," says Straus spokeswoman Tracy Young, "not games."
– October 5, 2010

Tracy Young, a spokeswoman for the Texas Charter Schools Association, said her organization is proud that ILT is among their members. She characterized ILT in an email as "innovative, creative and providing students an education that leads them into a global world beyond state borders."
– July 21, 2014

TCSA Spokeswoman Tracy Young said, "…when people come and ask us, 'Where's a good place to locate?' We identify places that don't have a whole lot of choice and options," Young said. "We do say the rural areas, especially West Texas, are very viable options for charters to locate in. They may not be a huge urban area …but we really like to identify places it would just be great to have a variety of options for parents to choose from."
– July 27, 2014
"Tracy Young, the new director of education at the George W. Bush Institute, argues why school testing matters to gauge student success and college readiness at a time when kids can get ribbons for just showing up."

We've Got a Problem
By Tracy Young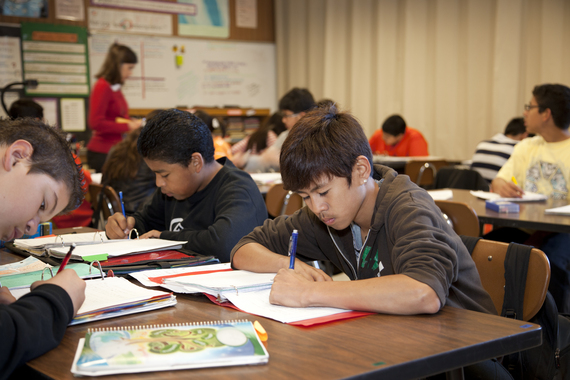 Let's start with these realities: Welders. Machinists. Lab technicians. Automotive engineers. The cable guy. Systems engineers. And, yes, those rocket scientists. They each need a good understanding of math and its concepts to perform their jobs well. And we all depend upon them doing their jobs exceptionally, if we want a quality product, a prosperous economy or simply a working TV. Those realities are important to remember as we go face-to-face with another set of realities: The latest data from the National Assessment of Educational Progress (NAEP) shows a surprising drop in student math scores. NAEP's bi-yearly exam of America's fourth- and eighth-graders in reading and math are reliable enough indicators of student achievement; they are considered the nation's report card. This year, for example, more than a quarter million students were tested in math.
Unfortunately, the report card shows a decline in math scores for both fourth- and eighth-graders. That's the first decline in the pivotal subject of math since 1990. In 1990, there was barely a World Wide Web, no text messaging — in fact, no smartphones. The world has changed a lot since then, but nobody thinks today's kids need to know less math.
Equally troubling, reading scores stayed the same for fourth-graders but declined for eighth-graders. So, in three out of four categories we see troubling data. Scores are going down in the core subjects of math and reading, which the rest of a child's education largely hinge upon.
That's bad enough news, but this sobering report is not a one-time phenomenon.
NAEP scores have shown a flattening in reading and math gains for fourth- and eighth-graders since 2009. After steady increases for much of the 2000s in those subjects, achievement gains have leveled out.
As an example, fourth grade math scores were 240 in 2009. Today, they remain at 240, after increasing five points between 2003 and 2009.
Yes, there are some exceptions to this latest data, at the state and city level, which we should be glad about and which we should study to determine what is happening in these areas. Consider the District of Columbia.
Reading and math scores actually improved for D.C. fourth graders on the 2015 NAEP tests. NAEP scores don't show why gains are made, but we do know that the D.C. school district has placed a sizable bet on focusing on the performance of its lowest-performing schools, improving the leaders of its schools, and strengthening the teacher corps. That bet perhaps paid off in this year's scores.
Also, in Dallas English language learners in fourth grade sharply outpaced their peers nationally in math. And Dallas' ELL students in eighth-grade outpaced their peers in both math and reading. We can't make claims about specific policies from one set of data, but these scores are significant because Dallas has the largest English language learner population in a state whose student body is more than half Latino.
Still, the national news is not good. The dip in math, along with the flattening in reading and math scores since 2009, certainly does not help the economic and social mobility of those students. Nor does it come close to satisfying the economy's thirst for workers with higher-order thinking skills.
The question is, what to do? As the nation turns toward the next four years, here are some paths for policymakers and educators to pursue:
First, let's not run from data like this. Reports from independent objective exams show us as a nation where we need to turn our attention. They show us where we need to invest and innovate.
Second, tomorrow's leaders should resist the easy path of letting up on standards and whether students have met them. There's a growing movement across the country to ease up on both.
Doing so would turn our back on school accountability policies that have previously kept campuses focused on struggling students, especially poor and minority students. There is a reason that civil rights organizations have not wanted Washington or states to let up on standards and assessments. They don't want the students they represent to be forgotten.
Third, schools need strong, effective leaders. Districts need to be intentional about recruiting, developing and retaining principals who know how to use data to guide their schools, coach their teachers and build a culture of achievement.
We can't be assured that following these paths will reverse the downward trend. These paths alone won't lead us ahead. But they will increase the chance that America can move out of this period of stagnating scores in the key subjects of math and reading.
We all have a stake in seeing progress, too. The welders, engineers and scientists who need math to meet the demands of their jobs affect our daily lives.
We will prosper and they will succeed if states and education leaders set standards and goals, measure and hold people accountable for results, use practices that are rooted in research, adjust strategies when necessary and always stay focused on students.
Tracy Young is director of the George W. Bush Institute's Education Reform initiative.
What No Child Left Behind got right
by Tracy Young
To the editor: The editorial calling No Child Left Behind (NCLB) "one of the worst constructed laws of the century" ignores the substantial bipartisan work that led to this act. Similarly, civil rights leaders and the business community backed it. They still do, agreeing on such fundamentals as giving students annual, independent tests. ("Finding the sweet spot of reason in evaluating schools and teachers," editorial, Nov. 27)
Your editorial notes those exams have brought critical information to public attention, especially about underperforming students. As a result, many students progressed during the peak of NCLB's enforcement.
Hispanic fourth-graders showed a gain of two grades in math on the National Assessment of Educational Progress between 1999-2008. African American fourth-graders showed similar improvement.
The editorial, however, criticizes NCLB for measuring whether students are proficient in a subject as opposed to growing in their grasp of it. I would hope all of us want every child mastering subjects like reading and math. But, for the record, Margaret Spellings, as Education secretary from 2005-09, allowed states to measure for growth instead of proficiency as long as students were making progress.
Yes, NCLB needs updating, and I agree students need helpful interventions. That was one of the driving purposes behind the law's call for transparency and accountability.
Tracy Young, Dallas
The writer is director of education reform at the George W. Bush Institute.